Creature DataEdit
Ancestor: Caracara
Class: Bird
Diet: Babookari; insects flushed out by wild fires
Predator: None
Time: Ice World
Habitat: Amazon Grasslands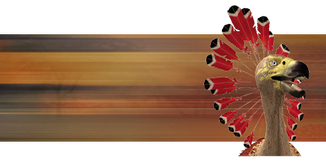 In the Life of a CarakillerEdit
The Carakillers live and hunt in packs. They hunt Babookaries with a strategy: sentries follow the Babookaries to keep a lock on their location, and to chase them towards the group. The others surround the monkeys and then charge from different angles. At least one of the monkeys will be caught. During wild fires, the Carakillers run to the flame's edge and feast on insects that are flushed out into the open.
Ad blocker interference detected!
Wikia is a free-to-use site that makes money from advertising. We have a modified experience for viewers using ad blockers

Wikia is not accessible if you've made further modifications. Remove the custom ad blocker rule(s) and the page will load as expected.